Wraptor Series

---
OUR AWARD WINNING SERPENTINE SYSTEM INCLUDES EVERYTHING YOUR ENGINE NEEDS.
Our All-Inclusive Wraptor™ 8 Track Serpentine Systems are the most complete serpentine systems on the market. We include 140 Amp alternator, GM Type II Power Steering Pump + Reservoir, Peanut Style AC compressor + Fitting, Gates spring loaded tensioner, Gates 8 rib belt(s), hub spacer and all the pulleys, brackets & hardware required for a complete installation. CVF's 8 Rib Serpentine pulleys increase grip, reduce stretching and prevent slippage compared to traditional 6 Rib designs. Best of all, installation is simple with our single bracket mounting system of the water pump (included),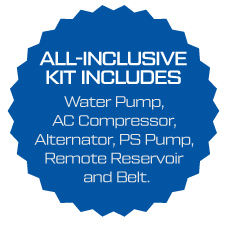 ensuring proper alignment and incredible performance.
AVAILABLE IN 5 FINISH TYPES:
POLISHED | POLISHED C3 (CERAMIC CLEAR COAT) | STEALTH BLACK | BLACK DIAMOND | CARBON FIBER
Showing all 4 results