Go EFI 2×4 625HP System 30061
$1,799.95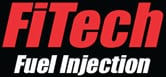 Description
Dual Quad! EFI! Nothing says Muscle like 2 big 4 BBL's on a V8. FiTech EFI has made it simple with their Go EFI 2×4 625HP self-tuning dual quad normally aspirated system. This kit is a bolt on for the most popular manifolds including the Edelbrock line of dual quad manifolds without any adapters! They fit and look like they belong there because they were designed to fit from the start. Our normally aspirated kits are good thru 625hp. One throttle body handles all of the brains while the second holds 4 additional injectors and the IAC motor for idle stability. These can also be used in cross ram and tunnel ram configurations. No boost with these, please! For boosted and high horsepower normally aspirated applications please see our Go EFI 2×4 Power Adder (Part #30064).
Bolt on 2 of these tough looking throttle bodies and drive your car as the system dials itself into the perfect calibration for all of your driving and weather conditions. If you decide you want to tune for more power or economy, the FiTech touch screen controller allows quick and easy on the fly adjustments at your fingertips!
Application: Chevrolet, Pontiac, Ford, Chrysler, Dodge, Plymouth, Etc. engines making 200 HP up to 650 HP with a dual quad intake manifold.
Replacement for any dual quad carburetors for engines with 200 HP up to 650 HP.
Use the same size air cleaner you would normally use for your dual quad carburetors.
**This kit does not include linkage or fuel lines.**
View All 30061 Master Kits
Not legal for use on pollution controlled vehicles. This system is designed to be retrofit into vehicles that do not require emission controls.
Features
1 BAR internal MAP sensor.
Suitable for up to 650hp.
(8) Flow matched injectors.
(1) Fan control.
Built-in pressure regulator.
Bright aluminum finish.
Kit Contents
(2) Die-cast throttle body.
(1) O2 bung kit.
(1) Hand-held controller.
(1) CTS sensor.
(1) Hand-held controller cable.
(1) CTS adapter.
(1) Windshield mount.
(1) Mini USB cable.
(1) 4+2-Pin Connector.
(2) Return plug.
(1) O2 sensor.
(1) Gasket kit.
Additional information
| | |
| --- | --- |
| Weight | 20 lbs |
| Dimensions | 15 × 15 × 12 in |
Additional information
| | |
| --- | --- |
| Weight | 24 lbs |
| Dimensions | 16 × 16 × 13 in |
| Make | Model | Year |
| --- | --- | --- |
| Chevrolet | | |
| Chrysler | | |
| Dodge | | |
| Ford | | |
| Plymouth | | |
| Pontiac | | |